The Bynars + Bearstronaut + Sincerely the Management + Every Other Country
This event occurs in the past, May 4 2011
Great Scott

1222 Commonwealth Ave, Allston, MA
(view map)
What in the name of IG-88 are a band named after a Star Trek reference doing releasing an album on Star Wars Day? Maybe the Fourth will be with the Bynars, who drop a debut album with Death Star dance parties in mind. New single "How Does It Feel To Fall in Love?" is a frenetic synth-rock romp fit for Max Rebo.
powered by
performers
The Bynars are a synth-pop band from Bynaus. Their mission is to rock and perpetutate intergallactic space-love. They have hi-jacked the space craft that is...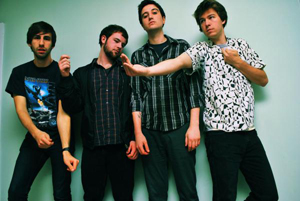 With strong and inventive synthesizer lines, bold yet singable melodies, and an energized rhythm section that will cause you to jump out of your seat,...

The heavens are calling your name.

Every Other Country
Add Comment
HTML Prohibited

More Events at Great Scott