"Berklee's Global Jazz Summit for Humanity and Peace"
This event occurs in the past, April 25 2011
Berklee Performance Center

Berklee's Global Jazz Summit For Humanity And Peace couldn't come at a better time, what with the US embroiled in — count them — three wars overseas. The three-day summit celebrates everything the Global Jazz Institute is all about: interconnected learning, creativity, and experiencing life beyond the talented musicianship of its students. A few things our global community could take cues from. Tonight's concert starring Wayne Shorter, widely regarded as the genre's greatest living composer, kicks off the festivities.
powered by
performers
Wayne Shorter (born August 25, 1933) is an American jazz composer and saxophonist. Shorter has recorded dozens of albums as a leader, and appeared on...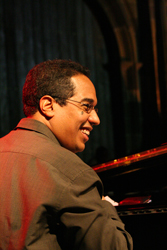 Danilo Perez Bio "… but there are still amazing musicians – like Danilo Perez, who plays...
Joseph Salvatore Lovano (born 29 December 1952 in Cleveland, Ohio) is a jazz saxophonist, clarinetist, flautist, and drummer. Since the 1970s, Lovano has been one...

terri lyne carrington
One of the top bassists of the 1990s (on both acoustic and electric), Patitucci's speed, very clear tone, and versatility are quite impressive. He started...
Add Comment
HTML Prohibited

More Events at Berklee Performance Center