Clones of the Queen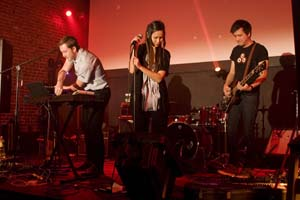 PHOTO: AARON YOSHIN
CITY: Honolulu
SONG TO DOWNLOAD: "Helpless"
WEBSITE: clonesofthequeen.com
WHY THEM: Someone who's never visited Honolulu might envision a city where hordes of people with no imagination go for vacation and everybody who resides year-round works in tourism, except for 15 burnouts living out of vans parked on beaches. Kind of like a Disney-less Orlando. But the music emanating from America's favorite imperial conquest speaks to the contrary. Consider the three-piece Clones of the Queen, a very worthwhile listening investment for anyone who's partial to spooky electro but wishes Portishead weren't so friggin' brusque and morbid. The tracks on Clones' Gate EP are composed of dark, spacious, myriad textures, but if songs were colors, they would be lavender instead of black. A guitar riff that would fit on a Smashing Pumpkins record carries "Helpless"; elsewhere, a restrained island beat occasionally saunters under the spellbinding auras. As clumsy genre-hopping seems to be the rage these days, it's refreshing to hear subtle, practical melding of scattered influences.

ALSO CONSIDERED: Painted Highways — This gazey garage rock had advocates, but in typical democratic fashion, the majority of voters gravitated toward the stylistic medium.
Clones of the Queen, abbreviated ?COTQ' or just ?Clones', is a three-piece based in Honolulu, Hawai?i. The band started jamming together in the summer of...
Add Comment
HTML Prohibited