Ohio
Cloud Nothings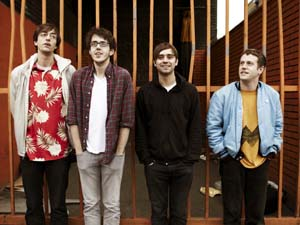 PHOTO: GEMMA HARRIS
CITY: Cleveland
SONG TO DOWNLOAD: "Understand at All"
WEBSITE: cloudnothings.bandcamp.com

WHY THEM: Twenty-year-old Dylan Baldi has produced some of the hookiest guitar-pop songs of the past two years. With his distortion-heavy project Cloud Nothings, he writes every song and plays every instrument. Baldi only started self-recording his tracks on a computer at his parents' house in late 2009; it was his first semester of college, and his traveling to New York for shows during finals week ultimately led him to drop out to pursue recording and touring. He released a couple of cassettes and seven-inches, eventually piling them all into a compilation of straight hits, Turning On, released via Carpark, who also put out a self-titled debut LP early this year. With releases also out with True Panther and Wichita, some may consider Cloud Nothings to already be a "successful" indie-pop band. But if he's accomplished so much in just two short years, we think it's headed uphill fast from here.

ALSO CONSIDERED: No one. We were sold on Cloud Nothings from the beginning.
Ohio
18 years young. Pop music. Cleveland, OH. Myspace page - //www.myspace.com/cloudnothings
Add Comment
HTML Prohibited